Luxury Vinyl Plank Flooring in Baltimore, MD
Searching for luxury vinyl plank flooring companies to help with a home remodeling project? We offer luxury vinyl plank flooring in Baltimore, MD, and the surrounding areas, so that our customers have a chance to enjoy this fantastic flooring option in their own homes. Browse our gallery to see examples of our past work!
Residential Luxury Vinyl Planking (LVP) for the Baltimore Area and Nearby Locations
When you need a vinyl planking contractor to help with your installation, we'll be there to help. We offer our professional services and luxury vinyl products to homeowners in locations throughout the Baltimore area, northern Virginia, and even Washington, D.C. If you want to install a beautiful and durable flooring material in your home, reach out to us in the following areas:
Maryland Service Regions:
Montgomery County

Harford County

Prince George's County

Howard County

Anne Arundel County

Frederick County
Virginia Service Regions:
Arlington County

Fairfax County

Loudoun County
Our Luxury Vinyl Plank Installation and Replacement Process
Have you thought about adding LVP flooring to your home? So have many other homeowners — however, some make the mistake of trying to install it themselves instead of asking a professional vinyl plank contractor for assistance. Rather than spend your time and effort on a difficult DIY project, reach out to the experts at Luxury Vinyl Installers for help!
Our convenient and easy-to-follow four-step process makes the installation of luxury vinyl plank flooring in Baltimore, MD, and the surrounding areas a breeze. These steps include the following:
Benefits of Luxury Vinyl Plank Flooring
Our luxury vinyl plank floorings for Baltimore, MD, and the surrounding areas benefit homeowners in more ways than one. Here are just a few of the reasons why you should consider using luxury vinyl products for your new floor:
For Luxury Vinyl Plank Flooring in Baltimore, MD, and Surrounding Areas, Give Us a Call
Is it time to add waterproof vinyl plank flooring to your home? Then reach out to our installation and flooring store in Baltimore, Montgomery, Harford, Baltimore, Prince George's, Howard, Anne Arundel, and Frederick counties, MD, as well as Arlington, Fairfax, and Loudoun counties, VA, and Washington DC. The team at Luxury Vinyl Installers will be happy to offer personalized services so that homeowners like you can elevate their living space with gorgeous new floors.
Have a question about our luxury vinyl plank flooring in Baltimore, MD, and the surrounding areas or our high-quality luxury vinyl tile flooring? Don't hesitate to contact us today for additional information and to request a quote for our services.
Why We Stand Out From Other Luxury Vinyl Plank Flooring Companies
When you reach out to Luxury Vinyl Installers for flooring assistance, you're making the right choice. Not only do we offer quality products and services, but our team is reliable as well. Our business is home to expert luxury vinyl plank installers who have the necessary experience to complete the job correctly and efficiently. When you partner with our luxury vinyl planking team, you can expect quality results sooner rather than later.
Luxury Vinyl Installers
Luxury Vinyl Installers (LVI) is engineered to last and add beauty to your home. Scratch resistant & easy to maintain.
Long plank vinyl flooring is unmatched in style. There are a wide assortment of colors and patterns available that allow homeowners to satisfy their interior design needs. Additionally, it can replicate the appearance and details of ceramic, stone, and hardwood floors, as well as other materials that are more expensive to purchase.
Very little effort is needed to maintain and clean our luxury vinyl plank floorings in Baltimore, MD. All you need to do is occasionally dust and mop up any spills that occur.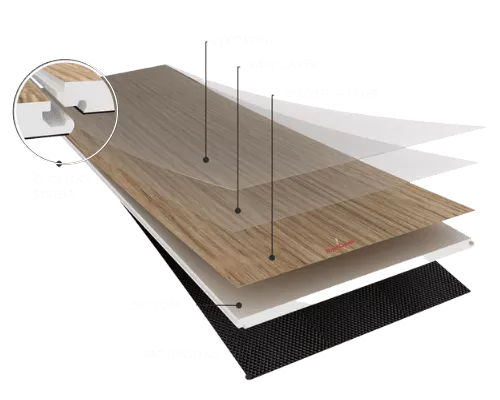 Homeowners won't have to worry about spills after a luxury vinyl plank installation. Unlike other flooring materials, waterproof vinyl plank flooring is an excellent option for kitchens and bathrooms where moisture and water splashes are the norms.
Another advantage of long plank vinyl flooring is how durable it is. Thanks to its renowned strength, it won't stain or scratch easily — remaining beautiful for years to come.