Luxury Vinyl Tile Flooring in Baltimore, MD
Our business is happy to help homeowners install luxury vinyl tile flooring in Baltimore, MD, and the surrounding areas so they can enjoy the benefits this material has to offer. Backed by experienced vinyl tile contractors who know how to work efficiently, you can always depend on us to deliver high-quality results. Whether you would like luxury tile flooring in your kitchen, bathroom, basement, home office, hallway, or other living space, know that we'll be there to help! To browse samples of our past VCT flooring installations, check out our gallery.
Kitchen and Bathroom Luxury Vinyl Tile (LVT) for the Baltimore Area and Surrounding Communities
Anyone who needs help installing LVT kitchen flooring or bathroom LVT tiles in the Baltimore region and adjacent regions should contact our team. Luxury Vinyl Installers is proud to offer quality services to customers in Maryland, northern Virginia, and Washington D.C. as well. If you're interested in a luxury vinyl tile installation in the following areas, we'll be happy to help:
Vinyl Floor Tile Installations in Maryland
Montgomery County

Harford County

Prince George's County

Howard County

Anne Arundel County

Frederick County
Vinyl Floor Tile Installations in Virginia
Arlington County

Fairfax County

Loudoun County
Our Luxury Vinyl Tile Installation and Replacement Process
LVT kitchen flooring is a fantastic addition to any home — but that doesn't mean it should be a weekend DIY project. Some homeowners attempt to install vinyl composite tiles themselves and end up making flooring installation errors because of their inexperience working with the material. Instead of wasting your time and energy fixing mistakes, have it installed correctly the first time by calling a professional luxury vinyl tile installer.
Thanks to our business, you can get luxury vinyl tile flooring in Baltimore, MD, and surrounding areas without any complications. Our installation service is easy to follow for all homeowners and involves four convenient steps:
Benefits of Luxury Vinyl Tile Flooring
Can't decide whether or not luxury tile flooring is the best option for your home remodeling? Then we'll help you discover why luxury vinyl products are one of the best flooring options available! Here's a look at some of the ways our luxury vinyl tile flooring for Baltimore, MD, and surrounding areas will make a big difference in a home:
Unlike carpet and other flooring styles, you won't have to spend much time cleaning your LVT flooring. Mopping spills and sweeping every now and then is all that's needed to care for them, offering convenience for homeowners that other flooring products and materials can't achieve.
If you're looking for strong materials to use in your remodeling, then vinyl composite tiles are among the most durable flooring options around. Thanks to their stain and scratch resistance, they will continue to be an appealing part of your house for many years to come.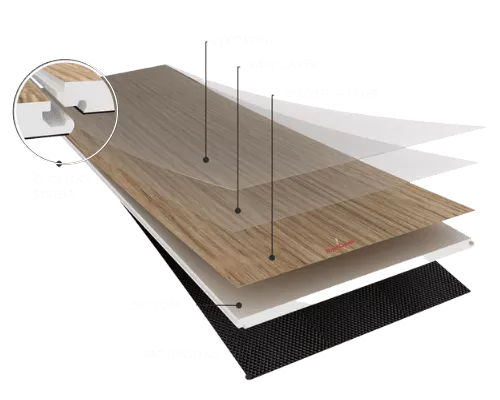 LVT kitchen flooring and bathroom LVT floors exist for a reason — their waterproof nature allows them to resist spills that readily occur in those rooms, making them an excellent choice in moisture-filled environments. As a result, you won't have to worry about any accidents harming this resilient flooring option.
A major advantage of LVT flooring is its ability to mimic other flooring styles. The details of stone, ceramic, and solid hardwood flooring can all be replicated thanks to the versatility of luxury vinyl tiles. Additionally, the tiles we install come in a wide range of designs and colors, meaning that you can find a VCT style that best matches your unique design needs.
Contact Us Today to Install Luxury Vinyl Tile Flooring in Baltimore, MD, and Surrounding Areas
If you're thinking about creating a beautiful luxury vinyl tile kitchen in your home, contact our team today. Luxury Vinyl Installers is happy to offer quality flooring installation and personalized service to residents of Baltimore, Montgomery, Harford, Baltimore, Prince George's, Howard, Anne Arundel, and Frederick counties, MD, as well as Arlington, Fairfax, and Loudoun counties, VA, and Washington DC — and will be happy to assist you as well!
Have a question about luxury vinyl tile kitchen installations? For more information on our luxury vinyl tile flooring in Baltimore, MD, and surrounding areas, reach out to our business today and request a quote.